Averett University President Elected to Prestigious NCAA Division III Presidents Council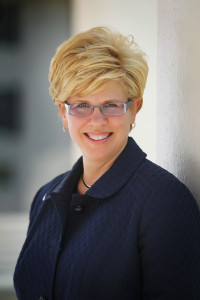 February 7, 2018  Averett University President Dr. Tiffany M. Franks was recently elected to the NCAA Division III Presidents Council, the division's highest governing body.
Franks' selection to the Presidents Council was announced during the NCAA's national convention in January. As one of 18 members nationally on the council, Franks will help establish and direct general policies for the 450-member Division III while assisting with the division's strategic plan.
"The opportunity to be able to partner with other presidents of 'like' institutions to help set direction and strategy and assure the fulfillment of NCAA Division III mission and philosophy — that's very rewarding," Franks said. "I'm proud of what we've done at Averett and I think we have so much to offer in that national conversation. I'm very pleased and proud to do it, but more than anything it just feels like a responsibility. Everyone needs to take their time at bat. Each of us needs to step up and serve outside of our own walls, so this is something I wanted to do to give back."
Franks, who served on the NCAA Division III Presidents Advisory Committee this past year, is one of two representatives from Region 3 on the Presidents Council. The council meets four times annually, and in the coming months, she will be assigned to a specific committee where her direct influence may be most felt.
"What an honor it is — not only for her," Averett Director of Athletics Meg Stevens said. "I think what the campus community needs to understand is how prestigious of a position our president is now in and what that does for Averett University. That basically puts Averett at the top of Division III athletics with a seat at the table."
In addition, Franks also serves as an advocate on the council for the USA South Athletic Conference.
"The NCAA has made an outstanding decision in selecting President Franks to serve on the Division III Presidents Council," USA South Commissioner Tom Hart said. "Her commitment to conference initiatives, the NCAA Presidential Advisory Group and the student-athlete experience position her well to be a voice, for not just the 19 members of the USA South Athletic Conference, but Division III as a whole."
An avid fan and a fixture at Averett athletics events, Franks believes that serving on the Division III Presidents Council is just a small way to give back to the University's student-athletes.
"For me, it was just a natural fit because I love our student-athletes and I love what athletics means to our Division III institutions," Franks said. "I'm in awe every game at the sacrifices our student-athletes make. It's so central to our mission. When asked to serve, I didn't have to think twice. I believe so much in the role of intercollegiate athletics and the development of our students — not only what it means in their lives in preparing them to be great employees, great citizens and great community leaders, but also what it does for the institution in terms of giving such joy, celebration, pride and energy to a campus. And I love what it does for our community as the Hometown University."
Averett's impact on a larger, national scale has continued to grow during Franks' 10 years as president, especially the last five years since Stevens joined the University as director of athletics. Franks believes this new opportunity should be mutually beneficial.
"It opens our network to a much broader set of folks and that's exciting," she said. "We love sharing what we're doing at Averett, but equally we like to learn from others."
Members of the Division III Presidents Council serve four-year terms that are not renewable. Franks believes her tenure on the council will help Averett tap into new resources, such as additional educational opportunities for student-athletes and professional development for coaches and staff.
"What I'd like to be able to say I've achieved in four years is that I was able to learn and benefit from the incredible resources of the NCAA and from colleagues on a national level and how we can bring that back to what we're doing here at Averett," Franks said.
Having served as a volunteer over many years in her community, Mrs. McAuliffe recognizes the power of engagement. Under her leadership, Virginia is leading the way to encourage and elevate national service as a pathway for solving challenges in local communities, deepening appreciation for citizenship, and developing valuable workforce training opportunities. Largely as a result of her efforts, Virginia is the first state in the nation to be designated an Employer of National Service, and Averett University has since become one, as well.
The Summit is sponsored by Averett University and the Virginia Department of Social Services, in collaboration with the Governor's Advisory Board on Service and Volunteerism.
Contact: Cassie Williams Jones (434) 791-5684                                               
Email: cwjones@averett.edu