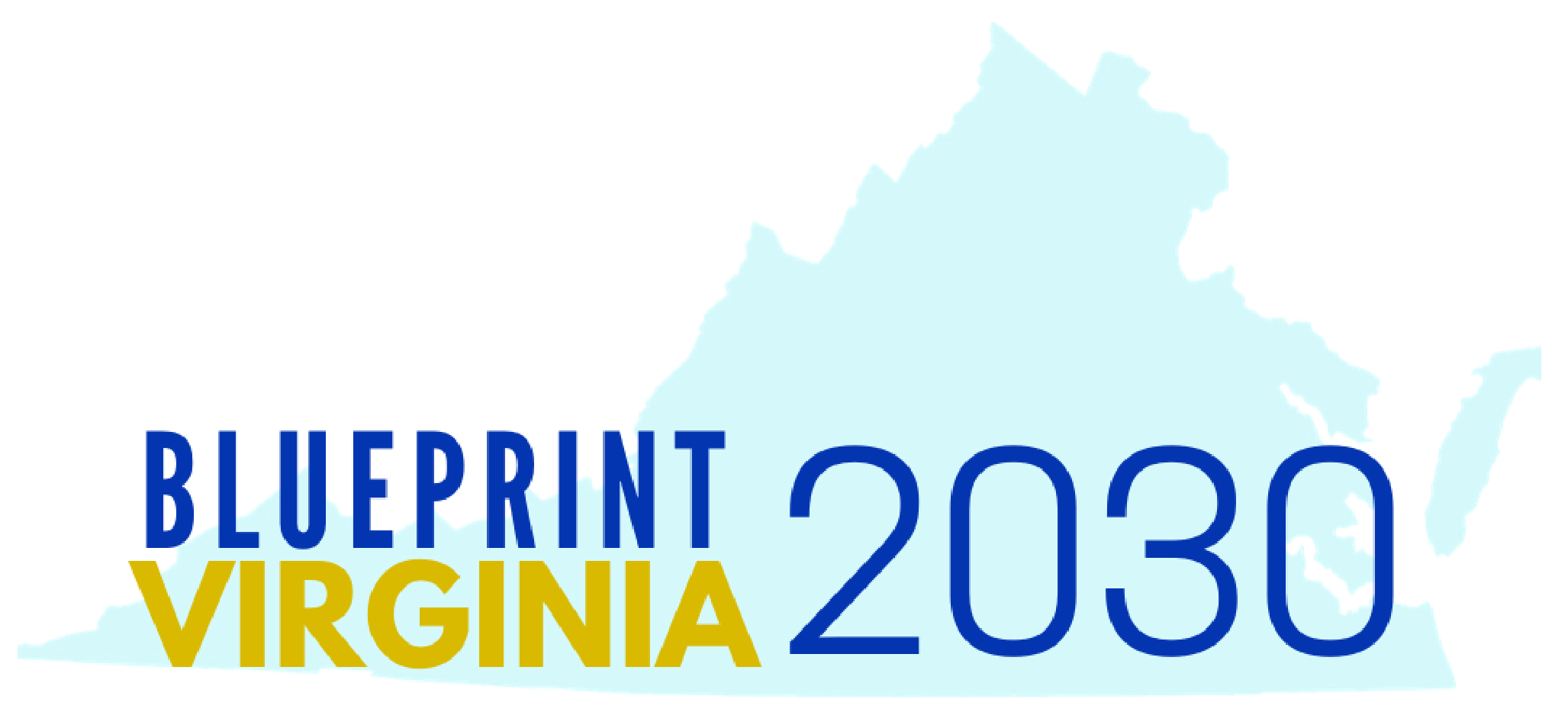 ---
The Virginia Chamber of Commerce will spend 2021 developing the next state-wide strategic plan – Blueprint Virginia 2030. As in previous years, the document will be presented to the Governor-elect at the Economic Summit scheduled for December 2021. The Chamber will collect input by bringing together leaders in business, economic development, workforce, education, housing, and other community representatives to ensure statewide representation of priorities for Virginia's economic prosperity. The goal and focus remains the same- to keep Virginia the best state for business.
View the video of the official Blueprint Virginia 2030 Announcement 
Learn more information about the Blueprint Virginia 2030 Regional Tour and register today by following this link. 
If you have an interest in participating in the Blueprint Virginia 2030 development process, please contact policy@vachamber.com.
If you have an interest in learning about sponsorship opportunities for Blueprint Virginia 2030, please contact Barry DuVal directly at bduval@vachamber.com.
---
Blueprint Virginia 2030 Timeline
---
 Blueprint Virginia 2030 Co-Chairs:
Co-Chair: Edward Baine, President – Dominion Energy Virginia
Co-Chair: Nazzic Keene, Chief Executive Officer, SAIC
Blueprint Virginia 2030 Steering Committee:
To be announced soon.
Blueprint Virginia 2030 Advisory Council:
To be announced soon.
Blueprint Virginia Executive Committees and Chairs:
Military and Veterans Affairs Executive Committee
Co-Chair: Sultan Camp, Military Liaison Strategic Recruiter, Newport News Shipbuilding
Co-Chair: Chris Doss, Senior Director of Operations, US Card, Enterprise Specialty Servicing, Capital One
Business Climate Executive Committee
Co-Chair: Todd Haymore, Managing Director, Global Economic Development, Commerce and Government Relations Group, Hunton Andrews Kurth
Co-Chair: Chris Lloyd,  Senior VP Infrastructure & Economic Development, McGuireWoods Consulting
Health Care Executive Committee
Co-Chair: Mark Lawrence, Vice President, Governmental and External Affairs, Carilion Clinic
C0-Chair: Karen Velkey, Corporate Vice President, Compensation & Benefits, Huntington Ingalls Industries
Innovation and Technology Executive Committee
Co-Chair: Brian Moore, Manager, US Public Policy, Amazon
Co-Chair: Charlene Hughes-Mowery, Director, Strategic Initiatives, Red Hat
Corporate Sustainability and Environmental Executive Committee
Co-Chair: Chris Davidson, Director, Corporate Sustainability, WestRock
Co-Chair: Mike Miller, Senior Vice President of Environmental Health and Safety, Sustainability and Risk Management, Advance Auto Parts
Workforce and Education Executive Committee
Co-Chair: Jennifer Baird, Director, Corporate Citizenship, Altria
Co-Chair: Dietra Trent, Interim Vice President, Compliance, Diversity, and Ethics, George Mason University
---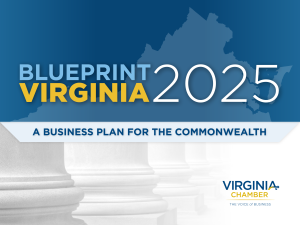 To view the Blueprint Virginia 2025, click here.
To view the original Blueprint Virginia, click here.
---
LOOKING FOR THE "BLUEPRINT FOR GETTING VIRGINIANS BACK TO WORK" PLAN?
On Wednesday, June 10, the Virginia Chamber of Commerce launched a new website – www.GetVaBackToWork.com. We encourage members of the business community to visit this website to find a comprehensive overview of COVID-19 resources and the Virginia Chamber's "Blueprint for Getting Virginians Back to Work Plan."