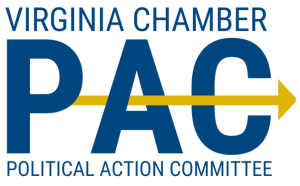 Support Pro-Job Candidates
Formed in 2003, the Virginia Chamber Political Action Committee (VCPAC) supports the Virginia Chamber's advocacy efforts by advancing the goals of the Chamber's Blueprint Virginia. VCPAC has invested more than $250,000 in pro-business causes over the last ten year
Defend Virginia's Business Climate
Individual and corporate investors in VCPAC play a critical role in defending Virginia's pro-business climate and advancing free market principles. While we have made great progress, there is much work to be done to ensure the VCPAC can continue to support pro-business candidates during the 2021 election cycle. If you have an interest in making a contribution or joining the VCPAC Board of Directors, please contact our team.