Small business is the driving force of the economy and job creation in Virginia. They are also the core constituency of our grassroots efforts. When regulations increase the cost of doing business in Virginia, it's often small businesses that suffer the most. In June of 2011, the Virginia Chamber of Commerce committed to a partnership with local and regional chambers to ensure the voice of small business is heard with minimal investment and maximum impact. This membership is available to businesses with 10 employees or fewer who are members of their local Chamber of Commerce in Virginia.
To learn more about the Small Business Alliance Membership, click here.
To learn more about the WiseChoice Healthcare Alliance, click here.
For more information on the Alliance, please contact Maryann Crowder at 804-237-1458 or m.crowder@vachamber.com.
---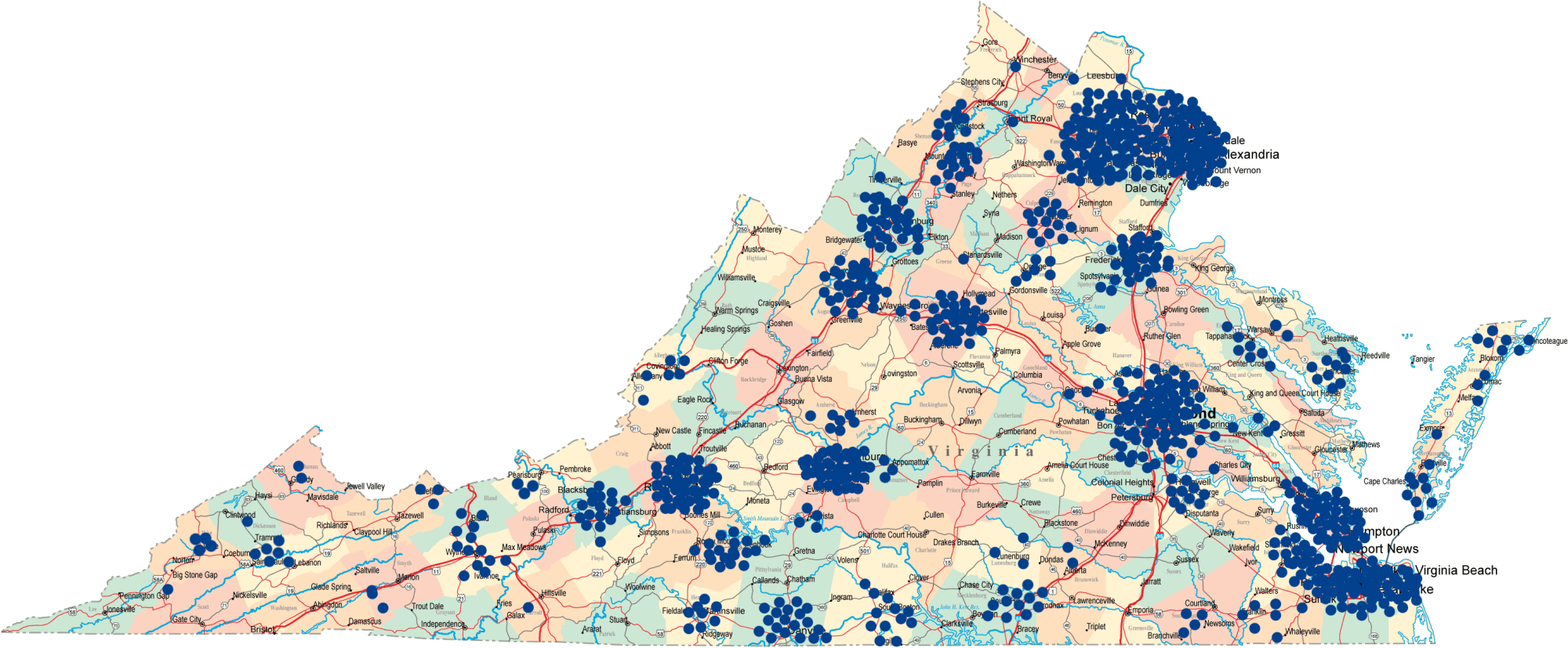 Each dot represents 25 members.
Current Chamber partners for the Small Business Alliance include:
Alexandria Chamber
Alleghany Highlands Chamber
Altavista Area Chamber
Amelia County Chamber
Amherst County Chamber
Appomattox County Chamber
Arlington Chamber
Asian American Chamber
Bath County Chamber
Bedford Area Chamber
Blackstone Chamber
Botetourt County Chamber
Bristol Chamber
Brunswick County Chamber
Buchanan County Chamber
Caroline County Chamber
Central Fairfax Chamber
Central Virginia African American Chamber
Chamber RVA – Richmond
Charlottesville Regional Chamber
Chesterfield County Chamber
Chincoteague Chamber
Clarksville Lake Country Chamber
Colonial Beach Chamber
Colonial Heights Chamber
Crew Burkeville Chamber
Culpeper Chamber
Danville Pittsylvania County Chamber
Dickenson County Chamber
Dinwiddie Chamber
Dulles Regional Chamber
Eastern Shore of Virginia Chamber
Emporia/Greensville Chamber
Farmville Area Chamber
Fauquier County Chamber
Fluvanna County Chamber
Franklin Southampton Area Chamber
Fredericksburg Regional Chamber
Giles County Chamber
Gloucester County Chamber
Goochland Chamber
Greater Augusta Chamber
Greater Bluefield Chamber
Greater Falls Church Chamber
Greater McLean Chamber
Greater Reston Chamber
Greater Springfield Chamber
Greater Williamsburg Chamber & Tourism Alliance
Greene County Chamber
Halifax County Chamber
Hampton Roads Chamber
Hanover Association of Business and Chamber
Harrisonburg-Rockingham Chamber
Highland County Chamber
Hopewell-Prince George Chamber
Isle of Wight-Smithfield Chamber
Lancaster By the Bay Chamber
Lexington/Buena Vista/Rockbridge County Chamber
Loudoun Chamber
Louisa County Chamber
Lunenburg County Chamber
Luray Page County Chamber
Lynchburg Regional Business Alliance
Madison Chamber
Martinsville-Henry County Chamber
Montgomery County Chamber
Mount Vernon-Lee Chamber
New Kent Chamber
Northampton County Chamber
Northern Virginia Black Chamber
NOVA Hispanic Chamber
Orange County Chamber
Patrick County Chamber
Petersburg Chamber
Powhatan Chamber
Prince William Chamber
Pulaski County Chamber
Roanoke Regional Chamber
Russell County Chamber
Salem-Roanoke Chamber
Scottsville Community Chamber
Shenandoah County Chamber
Smith Mountain Lake Regional Chamber
Smyth County Chamber
South Hill Chamber
Southwest Virginia Diverse Chamber
Surry County Chamber
Sussex County Chamber
Tappahannock-Essex Chamber
Top of Virginia Regional Chamber
Twin County Chamber
Tysons Regional Chamber
Vienna Business Association
Vinton Area Chamber
Virginia Asian Chamber
Virginia Hispanic Chamber
Virginia Peninsula Chamber
Warsaw-Richmond County Chamber
Washington County Chamber
Wise County Chamber
Wytheville-Wythe-Bland Chamber
York County Chamber