Averett University, SVHEC, NCI collaborate on unique professional development opportunity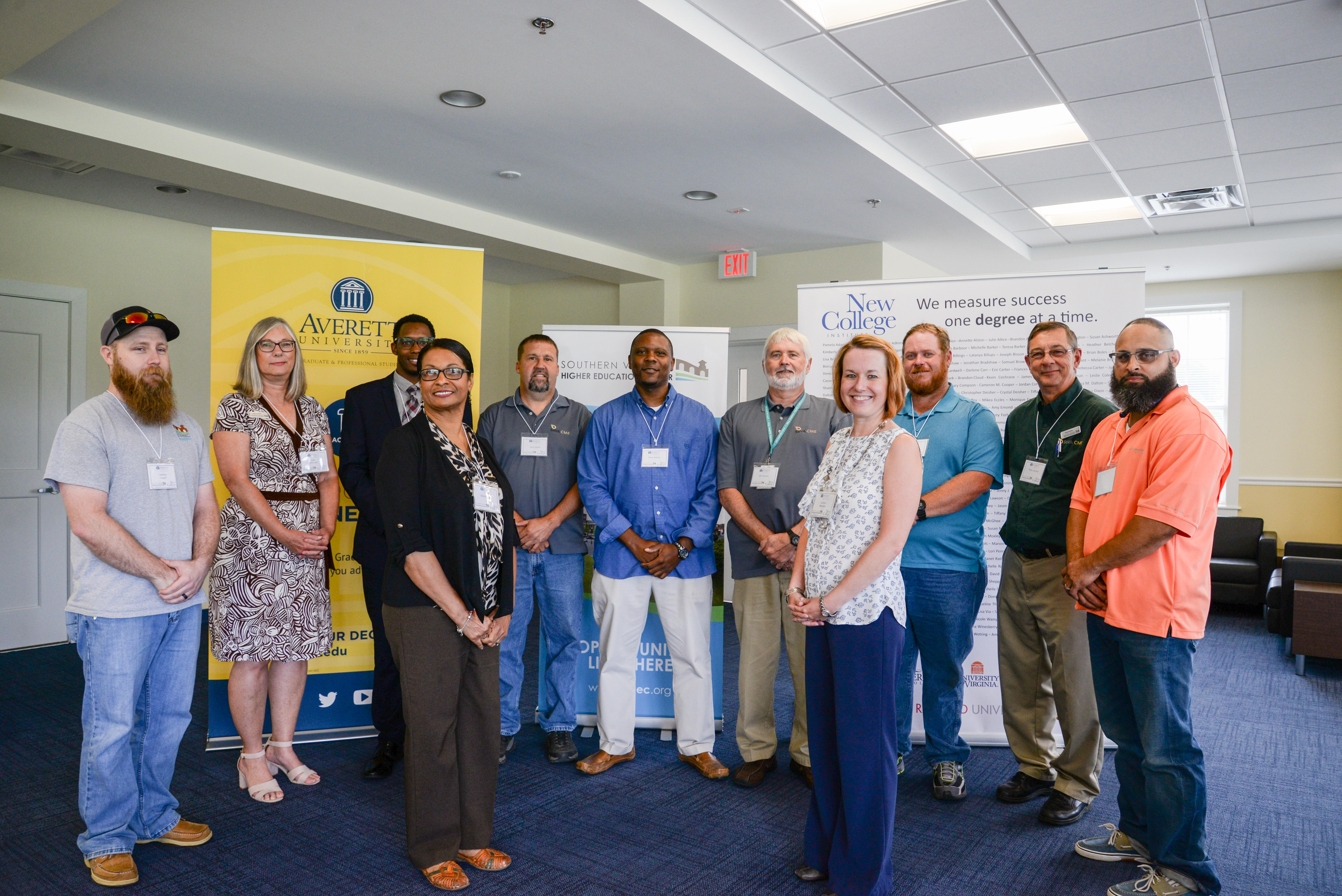 South Boston, Va. (June 29, 2018) —The Southern Virginia Higher Education Center (SVHEC) and New College Institute (NCI) partnered with Averett University to connect their technical trainers to a unique professional development opportunity.
"We have subject matter experts who are practitioners in the technical areas of our workforce training programs, and we want to help prepare and position them to be highly effective trainers. It is important that we pair technical expertise with exceptional classroom competencies," said Dr. Nettie Simon-Owens, SVHEC Chief Workforce Development Officer.
Averett University responded to this need by developing and delivering a new 10-week, face-to-face program entitled "Instructional Dynamics for Technical Trainers." Designed to build classroom competencies for all levels of technical trainers, the program consisted of 30 instructional hours in five core areas: classroom management, learning principles and styles, using technology in the classroom/lab, assessment and planning.
"We are always thrilled when we have the opportunity to work alongside our partners like the Southern Virginia Higher Education Center and New College Institute on our shared vision of developing a robust and prepared workforce through educational initiatives," said Averett President Dr. Tiffany M. Franks. "This program was built out of our distinguished Education program, which places many teachers throughout the region's school systems and will now equip technical trainers to be strong teachers in their content areas of expertise."
NCI and SVHEC began piloting the "Instructional Dynamics" program this spring, with individuals attending class one evening a week. SVHEC's cohort included full-time workforce development staff, selected part-time trainers and several small business owners who will serve as technical training resources for future program initiatives. NCI's class was comprised of two New College staff members and several full-time employees from industries in the Martinsville/Henry County area.
"The class provided insight into the unique requirements of adult learners as well as practical tips for a purposeful, high quality learning experience. It filled in some knowledge gaps for those of us who do not have an education background," said Kelly Shotwell, SVHEC IT Academy Program Coordinator and Trainer.
"As a person with an extensive background in manufacturing, I have experienced first-hand the challenges of taking an individual from being a highly proficient machinist, to technical trainer.
These Instructional Dynamics courses will help to make that transition a lot easier and give our industry partners the professional tools they need to develop a high performing workforce," said Pamela Carter-Taylor, NCI Coordinator of Advanced Manufacturing.
The pilot of "Instructional Dynamics for Technical Trainers" officially ended on June 28 with a luncheon hosted by Averett University. Program participants were recognized, and received completion certificates. "We're grateful for the partnership and collaboration with Averett University and New College Institute. What has been taught and learned in the modules will help us standardize course materials as appropriate across all of our training programs, and  will enable us to prepare our local and regional technical professionals to be better technical trainers," Dr. Simon-Owens stated.
About Averett University
Since 1859, Averett University has grown and developed into a dynamic institution that serves students of all ages, offering more than 30 undergraduate majors, minors and special programs, along with three graduate programs with a number of concentrations. Dedicated to preparing students to serve and lead as catalysts for positive change, the University's historic main campus is embedded in the heart of Southern Virginia with regional campuses throughout Virginia and online. Averett enrolls a diverse student body, and boasts an alumni network that spans the globe.
About Southern Virginia Higher Education Center
The Southern Virginia Higher Education Center (SVHEC) is advancing Southern Virginia's economic potential through education, innovation, and collaboration. The SVHEC provides educational access and workforce training, and is focused on re-tooling Southern Virginia's rural workforce for jobs in the New Economy. For more information visit www.svhec.org, call 434-572-5446, or email info@svhec.org.
About New College Institute
New College Institute (NCI) is one of five higher education centers in the Commonwealth.  As a state agency, NCI partners with colleges and universities, industries, and others to bring select degree programs and training opportunities to Southern Virginia in the areas of advanced manufacturing and engineering, health and human services, technology and cybersecurity, and education and community leadership.  To date we have been responsible for awarding 405 degrees which collectively results in a $154 million impact to our local/regional economy.
Contact: Cassie Williams Jones (434) 791-5684
Email: cwjones@averett.edu