LEADERSHIP SOUTHSIDE ANNOUNCES 2021-22 CLASS
DANVILLE, Va. (August 2, 2021) – The Danville Pittsylvania County Chamber of Commerce
announced the selection of its 2021-2022 Leadership Southside class.
Leadership Southside is an engaging and informative program that offers skill building, leadership
development, network building and an introduction to the Dan River Region. Approaching its 30th
year, Leadership Southside develops leadership skills by providing information and experiences, and
promoting diversity of thought and exchange of ideas.
Sessions include conflict resolution and team building, community challenges and opportunities,
crisis leadership, facilitation and presentation skills, cultural diversity and board leadership in
the public, private and nonprofit sectors. Participants also will travel to Richmond in January for
Chamber Day at the Capitol to hear from and engage with members of the General Assembly.
Leadership Southside is a nine-month program, meeting one day each month from August through April.
The class will celebrate graduation in May 2022.
Congratulations to the following 22 candidates who will be participating in the 2021-2022 class:
There are close to 500 alumni who contribute in a number of ways to the vitality of our region.
Leadership Southside alumni are this community's leaders—they are committed to Danville and
Pittsylvania County, striving to move both their careers and their communities forward.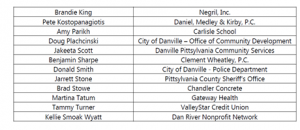 Leadership Southside is made possible in part with support from our corporate sponsors and other
regional funders. For more information, please contact Alexis Ehrhardt at 434.836.6990 or
aehrhardt@dpchamber.org.
The Danville Pittsylvania County Chamber of Commerce accelerates business growth by
connecting its members to dynamic resources and networks. The Chamber's number one goal is
to help area businesses of all sizes to grow and prosper.