Strongwell Highlands Manufacturing Facility Celebrates Two Years Accident-Free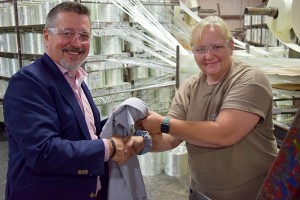 BRISTOL, Va. — Strongwell (USA) is celebrating two years without an accident at its Highlands manufacturing facility, located in Abingdon, Virginia.
The facility manufactures a variety of fiber reinforced polymer (FRP) composite structural shapes used in the industrial, building and construction, and infrastructure markets.
"This accomplishment says a lot about our team members' commitment to working safely," says David Oakley, president and CEO of Strongwell. "This accomplishment is a good reminder for us all that it is possible to work safely. Paying attention to seemingly simple things like keeping work areas organized and constantly encouraging safe work behaviors can make a huge difference. The team members of the Highlands plant should be proud of this job well done."
The two-year accident-free achievement was celebrated with a meal prepared by Highlands Plant Manager Robert Evans, milestone t-shirts for employees, and hearty congratulations from Strongwell management. "We make safety a serious priority, and every person here is a part of ensuring our work environment is a safe one," Evans says.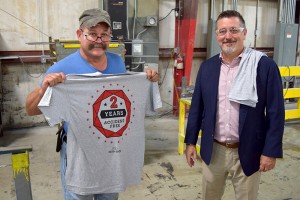 Between its Bristol and Abingdon locations, Strongwell provides stable employment and growth opportunities for nearly 300 people, and the average tenure of a worker in these locations is 15 years.
"We could never have achieved this milestone without everyone taking personal ownership of safety," says Karen Rabren, corporate director of Human Resources. "Highlands is a model for how local manufacturing can be a safe, rewarding career."
For more information on Strongwell, visit www.strongwell.com.
Headquartered in Bristol, Virginia, Strongwell is the world's leading pultruder of fiber reinforced polymer composites. The company has pultrusion manufacturing facilities in Bristol, Virginia; Abingdon, Virginia; Chatfield, Minnesota; and Apodaca, Mexico. Strongwell is a financially strong, privately held company, producing products including structural shapes, grating, handrail, structural building panels, decking systems, composite armor, ladder rail, and many OEM products for its diverse customer base. To learn more about Strongwell, please visit www.strongwell.com.
Image Information:
Highlands-2year-1.jpg and Highlands-2year-2.jpg – As part of the celebration, Strongwell Highlands team members received milestone t-shirts.
Highlands-2year-3.jpg – John Tickle (Strongwell chairman) participates in the celebration of two years accident free at Highlands facility.
Barry Myers | Corporate Director, Marketing and Communications
400 Commonwealth Ave
Bristol, VA 24201
+1 276-645-8077
bmyers@strongwell.com
www.strongwell.com