Marstel-Day, LLC receives the 2018 EcoLeadership award from the Alliance for Workplace Excellence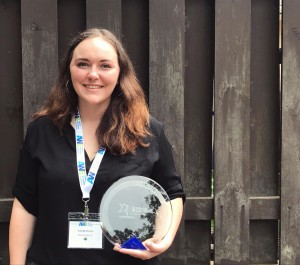 Researcher Ashleigh Benson accepted the Alliance for Workplace Excellence Ecoleadership Award today on behalf of Marstel-Day for our #StandWithWildlife campaign!
FREDERICKSBURG, VA – Marstel-Day, LLC has received the 2018 EcoLeadership award from the Alliance for Workplace Excellence (AWE) for its social contributions and natural resource management achievements, specifically recognizing the company's #StandWithWildlife campaign.
Marstel-Day's #StandWithWildlife campaign helped shine a light on major wildlife conservation issues of our time, accompanied by a call to action for individuals and businesses to take a stand to support wildlife and biodiversity. Throughout the campaign, Marstel-Day partnered with organizations such as the National Conservation Leadership Institute (NCLI); One More Generation; Soul River; the Jane Goodall Institute; Five Gyres; the Oakland Zoo; the Wildlife Center of Virginia; the Consortium for Ocean Leadership; the Earth Journalism Network; Discover Nature Apps; the U.S. Fish and Wildlife Service and more. These partnerships focused on identifying and developing strategies to protect, restore and enhance the world's diverse wildlife and their habitats and on presenting ways in which individuals and businesses can help make that happen.
The 2018 AWE awards were presented at a special ceremony and luncheon held in Gaithersburg, MD on June 8, 2018. This year's event theme was "Witty, Gritty, and Wise: The Power of Cultivating Leaders at Every Level" with guest speakers Robin Koval from Truth Initiative and Veronica Johnson from WJLA-TV/ABC7. A total of 46 employers were recognized with one or more 2018 AWE award(s). AWE, a nonprofit organization, recognizes leaders in all aspects of an excellent workplace through a recognition program, consulting and education, and community awareness.