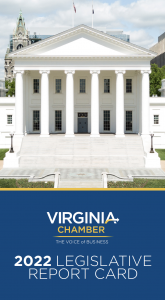 The 2022 General Assembly session provided the Virginia Chamber the first opportunity to begin implementation of Blueprint Virginia 2030. The Virginia Chamber of Commerce's 2022 Legislative Report Card grades members of the Virginia General Assembly on their voting record on key business issues including those that will foster long-term economic growth and those that would harm our business climate. This year's scores were based on votes for the Chamber's legislative priorities, including, among others, investments in education and workforce; economic competitiveness; site development; passage of the bill to allow an additional option for small businesses to offer health insurance for their employees; support for the bill to fix an unintended consequence of last year's action on the Overtime Wage Act; and, passage of the bill to transfer permitting authority to DEQ. During the 2022 session, the Virginia Chamber tracked more than 800 bills and budget amendments and took a position on over 150 key bills. 
On behalf of the Virginia Chamber of Commerce, we would like to thank Virginia's pro-business legislators for their efforts during the General Assembly Session to actively engage with the business community, support initiatives to foster economic growth, and defend Virginia's business climate
View the 2022 Legislative Report Card Here. 
---
Review Past Legislative Report Cards: