Hispanic Heritage Month: September 15 – October 15

Hispanic Heritage Month runs from September 15th through October 15th each year and celebrates the history and contributions of individuals who trace their roots to Spain, Mexico, Central America, South America, and the Spanish-speaking nations of the Caribbean.
Hispanics/Latinos are the the fastest growing ethnic group in the U.S. and play a major role in shaping our economy and society, making up 18.7% of the U.S. population. In Virginia, Hispanics/Latinos make up 10.5% of the state's population and in some cities already make up about 40% of the residents. Over the next two decades, the U.S. Census believes that the Hispanic population will double in the state of Virginia.
The Virginia Hispanic Chamber, the Virginia Hispanic Foundation, and its partners will host several events for the community to explore and learn about Hispanic/Latino Culture. We hope you can join in on the festivities and please be sure to check back for further updates on upcoming events.
---
¿Que Pasa? – What's happening?QuePasaVa.com

Dine Latino!    RestaurantE Week    Oct 11th – Oct 17
RestaurantE Week, created by the Virginia Hispanic Chamber of Commerce (VaHCC), is a promotional campaign that seeks to boost the revenue of Hispanic-Owned restaurants during Hispanic Heritage Month by promoting them at a time when many have been required to significantly scale back their operations. Restaurante week is a week-long celebration of Latin Cuisine. Register your restaurant by clicking on the link below and let others know what your restaurant has to offer.
Registration is free. vahcc.com/restaurante-week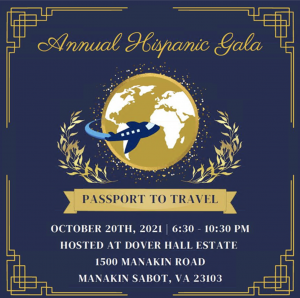 DOVER HALL ESTATE
1500 Manakin Road Manakin Sabot, VA 23103
10/20/21 6:30 pm – 10:30 pm
Register today and secure your full-access gala pass to join us for a night of specialty cocktails, Latin cuisine, salsa dancing and the opportunity to bid on amazing getaways. The theme of this year's fundraising Hispanic Gala is "Passport to Travel" in support of the educational programs of the Virginia Hispanic Foundation (VHF). Corporate, community, volunteer, philanthropic, and political leaders, will all gather for this culturally inspired fundraising event at the elegant Dover Hall Estate venue on October 20th culminating Hispanic Heritage Month activities. 
This year's auction will feature the opportunity to bid on up to 10 amazing trips to choose from; destinations include Perú, Argentina and Costa Rica. Funds raised at the event will be designated to support the VHF's core programs which include:
Pasaporte a la Educación programs to assist Hispanic youth in elementary, middle, and high school.
The Business Center which provides bilingual counseling, educational programs in starting or growing their business, career exploration and job placement through TrabajaVA
Legal Assistance Clinics for low-income individuals with Immigration and civil issues.
Get your ticket now and be part of this exquisite and unique celebration! If you can't make it, but would like to give back, simply click on the "Donate Now" button below.
Trabaja VA
Click on the link below and see the latest job opportunities across Virginia. If you are an employer, make sure to check our job adds options as well!