Fox Urban Farms plants the seeds for hydroponic farming in Winchester
WINCHESTER — Good things are growing in Winchester these days. And it feels a bit sci-fi. If you frequent downtown, you might have noticed what looks like two shipping containers sitting on a gravel lot at 1001 S. Loudoun St. During the past few weeks, a transformation has been unfolding inside the structures. John and Ann Fox of Fox Urban Farms have been planting the seeds to get Winchester's first urban hydroponic farm up and running.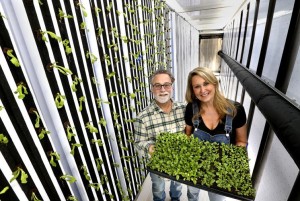 Fox Urban Farm Owners Ann and John Fox show a flat of the fresh specialty lettuce they are growing in Winchester's first urban hydroponic farm on South Loudon Street.
Fling open the doors of one of the colorful containers (local muralist Sarah Gallahan recently painted the exterior) and you'll be treated to a light show that rivals any spaceship. What you've entered is not a shipping container at all. It's a self-contained hydroponic farming unit, classified as an industrial building in the world of zoning. Bright lights in a rainbow of colors shine on the growing plants as a computerized system monitors all aspects of the container farm.
The two units at Fox Urban Farms have heating and cooling and are fully insulated. The units are equipped with all of the electrical and plumbing features necessary to provide light and water for a hydroponic farm capable of rendering the same output as 5 acres of traditional farmland. LED lights shine on the growing plants as a computerized system monitors all aspects of the container farm day and night.
"The cool thing is, when we look outside and the weather is gross, we are growing in here, producing fantastic product for 365 days a year for the community," John says.
Hydroponic farming uses water that is enriched with nutrients to grow plants, instead of soil. At Fox Urban Farms, seedlings are started in a tiny cube of coco coir and peat moss and stay there for just a couple of weeks before being moved to a vertical panel where they grow in water that circulates through a system. The Foxes say they will be able to fit about 50 plants on each of their 88 panels.
Currently, the couple is focused on growing greens. The first harvest should be ready by February. So far, they have planted several types of romaine lettuce, bib lettuce, iceberg lettuce, spinach, radicchio and basil. They plan to grow other vegetables and can intersperse a variety of crops on the panels.
According to Ann, the nice thing about their hydroponic farm is that there are fewer hands touching the produce compared to many other farming enterprises. Produce is picked the same day it is sold and isn't treated with pesticides, fungicides or shined with wax. The food won't have to travel for weeks to get to a store or sit on a shelf.
"It's just me and John," she says. "We can pick it the same day we sell it. No water ever touches the leaves, so the plants hold their natural oils. The lettuce tastes and feels different. It's buttery."
Hydroponic farming is classified as "controlled environmental agriculture." It is a contained system that doesn't face the same challenges that field farms experience. There are no hungry deer, birds or rabbits gobbling up plants. The hydroponic farm is not susceptible to extreme weather events either in the same way outdoor crops can be wiped out from an unexpected event like a surprise freeze or flood.
"We can do things that traditional farming can't do and they can do some things we can't do," John says. "Hydroponic farming complements traditional farming."
Gnats, fungus and other challenges can easily be controlled through cleaning the wicking strips on the growing panels with white vinegar and making adjustments to the growing solution when needed. The Foxes also note that the computerized system they have monitors and automates most aspects of the farm. Ann says it allows them time to stay a step ahead of any problems, since they can carefully check to make sure plants are healthy.
The Foxes intentionally located in downtown Winchester in order to provide accessibility to the freshest produce possible to city residents who might feel like they are in a bit of a fresh food desert. "It is for our community. I want it for my family and for others' families too," Ann says. She and John know a thing or two about feeding people. The couple has four sons.
While the hydroponic farm is automated to a great extent, the Foxes are not shying away from the work that is ahead — planting, promoting and selling. Fortunately, they have a wee bit of experience in the latter. Prior to starting Fox Urban Farms, they owned Greenwood Grocery and Deli in Frederick County for 16 years. They sold it a couple of years ago and are excited about the lifestyle the new challenge provides.
The Foxes have several ways they will be selling their produce. Customers will be able to buy a CSA (community supported agriculture) crop box subscription for their households or preorder produce online. Fox Urban Farms also will be supplying some local restaurants with freshly harvested goods. In addition, John says they hope to develop a small version of a farmer's market on Saturdays where customers can shop for items a la carte. And to make sure it is accessible to all, they will accept EBT and SNAP.
Beyond retail sales, the Foxes are going the extra mile to communicate with city nonprofits and Winchester Public Schools to understand how they might help those entities get fresh food to people who might not have access to it.
"It is really important to us to be in the city of Winchester," John says. "We are using a space that was underutilized when we found it." Ann adds: "We live here. We love it. We are very community-oriented and driven to set an example for our children that when you live somewhere, you should try to make the community better."
For more information, visit foxurbanfarms.com. The site will take you to the multiple social media pages the farm uses for engagement.