Dr. Monroe Farmer Celebrates 5 Year Work Anniversary at Boys Home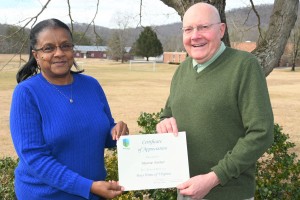 Boys Home staff and students are excited to announce Dr. Monroe Farmer's five-year work anniversary. He serves as an Ecology and Earth Science teacher at the Boys Home School. Monroe served in the Marine Corps and retired from the Army as a colonel. After his military career, he pursued a career as an optometrist and owned his own practice for thirty years. In addition to his education as an optometrist, he holds a degree in forestry. He came to Boys Home in 2017 to tutor several biology students and was impressed with the Boys Home mission. Monroe felt called to stay.
He states, "My military career has served me well at Boys Home. I know firsthand the importance of young men needing rules, discipline and structure. I have had several of the same students since I arrived in 2017 and watching them succeed over the last five years has given me great joy. I believe in the Boys Home program." As a teacher and a mentor, Monroe helps to uphold the Boys Home values of respect, integrity, a Godly life and accountability. These values help to develop and strengthen the students the program serves daily. Congratulations, Monroe!
Boys Home of Virginia, founded in 1906, provides a healthy and supportive environment for young men whose lives have been negatively impacted by poverty or family instability.  Students are provided food, clothing, shelter, and guidance in a manner that supports the successful transition to adulthood along with educational and career opportunities.  Boys Home, a non-profit 501 (c) 3 organization, is almost entirely privately funded by individuals, organizations, churches, and foundations.
For more information about Boys Home, or to donate, please visit the website at www.boyshomeofva.org.