Dennis Calhoun Celebrates 20 Years at Boys Home of Virginia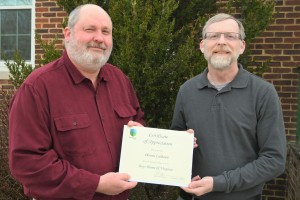 Boys Home staff and students are excited to recognize Dennis Calhoun's twenty-year work anniversary. He currently serves as the lead student advisor. During his twenty years, Dennis has served as a team leader, case manager and student advisor. Dennis has an undergraduate degree from Appalachian Bible College in theology and a master's degree from Liberty University in seminary. Prior to Boys Home, he worked in residential childcare for ten years at a children's home in Pennsylvania. In addition, he served in the Army National Guard for six years.
Dennis' previous experience has served him well in his role at Boys Home. He states, "My military experience allowed me to see the value in discipline, a need for clear expectations and the reason for high standards. I quickly found that the mission of Boys Home is something I can invest in and use as my personal mission. I focus on character development with the students we serve." Dennis was asked what he enjoyed most about his current role. "I enjoy the meaningful student relationships and seeing individuals positively progress while at Boys Home. I have a love for camping and fishing. I like to share that passion with the students." Dennis' values align with the Boys Home mission of helping students become productive members of society by developing their spiritual, mental, physical and social potentials. Congratulations, Dennis!
Boys Home of Virginia, founded in 1906, provides a healthy and supportive environment for young men whose lives have been negatively impacted by poverty or family instability.  Students are provided food, clothing, shelter, and guidance in a manner that supports the successful transition to adulthood along with educational and career opportunities.  Boys Home, a non-profit 501 (c) 3 organization, is almost entirely privately funded by individuals, organizations, churches, and foundations.
 For more information about Boys Home, or to donate, please visit the website at www.boyshomeofva.org.