Supply Chain and International Trade Executive Committee
Supply Chain and International Trade Executive Committee
The Supply Chain and International Trade Executive Committee provides thought leadership and advises policy research to implement innovative supply chain strategies that promote the long-term economic success of Virginia businesses. 
Executive Committee Areas of Focus
The Executive Committee is working to implement the innovative supply chain and international trade policies and initiatives outlined in the Virginia Chamber's strategic plan, Blueprint Virginia 2030.  The five areas of focus identified within the document offer a pathway to strengthen supply chains while expanding trade opportunities. Representing the objectives and goals of the Supply Chain and International Trade Executive Committee, the five areas of focus broadly stated include:
Strengthen Supply Chains


Strengthen the domestic and international supply chains for critical materials and products, especially regarding inventory critical to national security and public health
Recognize the sensitivity of the global supply chain and work collaboratively to ensure continuity of critical operations through public-private partnerships and the removal of trade barriers and impediments to the efficient movement of goods and services

Develop a World-Class Logistics & Distribution Strategy


Become the best state for testing innovative, emerging trends to support the next generation of transportation investments to better move goods across the commonwealth and beyond
Promote the exchange and integration between highway, rail, and ports to expand Virginia's inter modal capacity and reduce congestion on Virginia's highway system
Develop and encourage transportation policies and investments that address Virginia's transportation challenges

Expand Trade Opportunities


Fully fund and implement Virginia's International Trade Plan which seeks to increase Virginia's exports by 50 percent by 2035
Continue to support investments in the Port of Virginia and other transportation assets to maintain the state's competitive advantages

Improve Supply Chain Talent Pipelines

Provide greater collaboration and develop a working partnership with Virginia's network of universities and colleges to educate and train future members of the supply chain workforce
Create and expand work-based learning opportunities such as internships, apprenticeships and other important and alternative training programs

Supply Chain Ethics and Corporate Responsibility

Discuss supply chain ethics and best practices to support corporate responsibility initiatives related to ESG goals
Elevate the efforts of ethical and sustainable trade practices as a business priority
Supply Chain and International Trade Executive Committee – Corporate Members
Co-Chairs
Eric Sisco,
Chairman, Virginia International Gateway, Inc.
Keller Watts,
Executive Vice President, Business Management and Supply Planning,
Smithfield Foods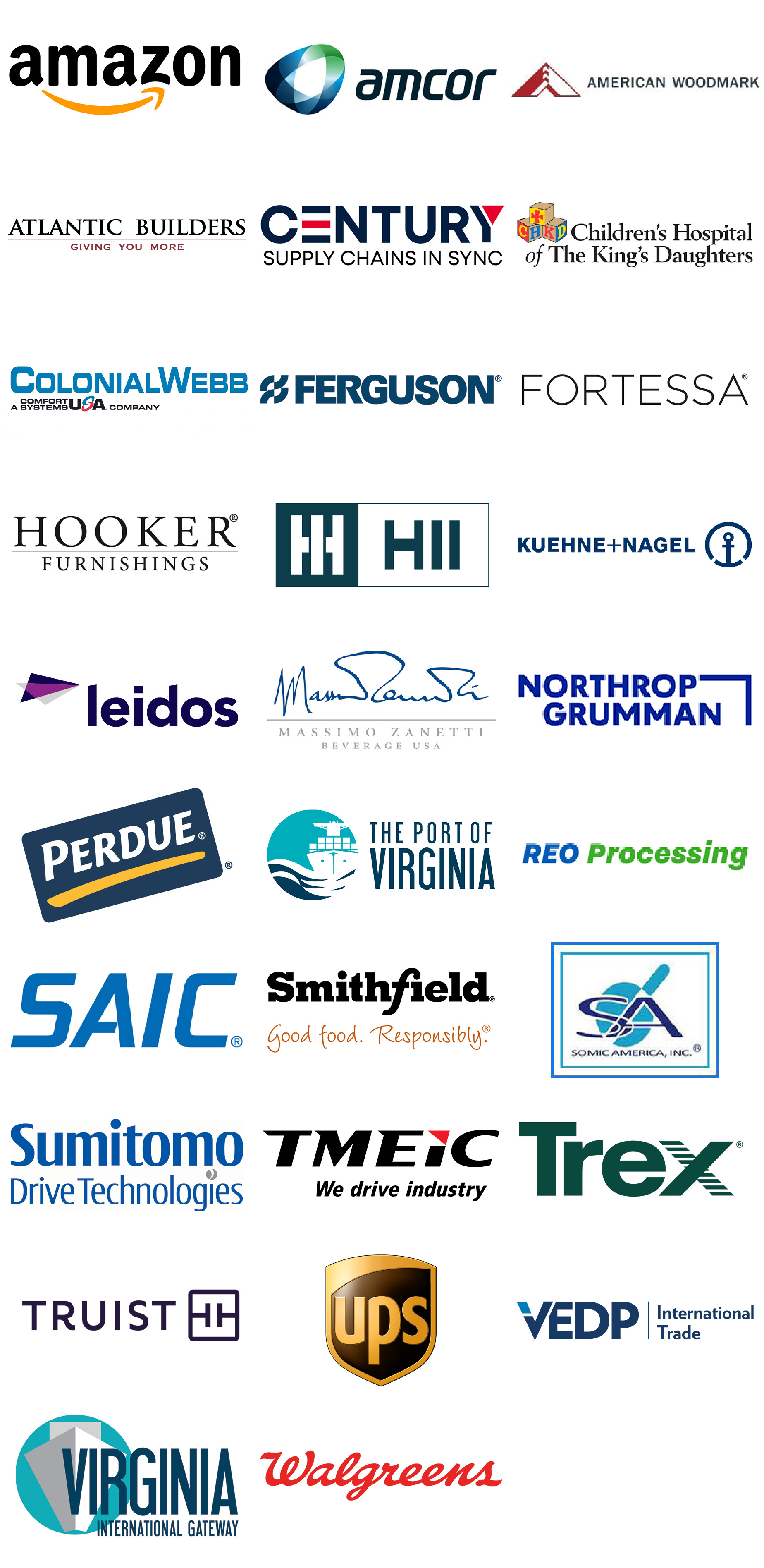 For information on how to participate and engage with the Executive Committee, please contact Eleana Legree, Vice President of Investor Relations and Membership Engagement, at e.legree@vachamber.com